Back in September when the Vivo V20 Pro was launched, up until Vivo V20 and the V20 SE made to India. Now the Indian Branch of the company officially announced the launch date of the 3rd instalment of the Vivo V20 series. Which is none other than the Vivo V20 Pro 5G. According to the reports, it is the exact international model coming to India. Hence, the company yet to reveal the price tag for the Indian market extensively. However, the phone expected to price around ₹29,999.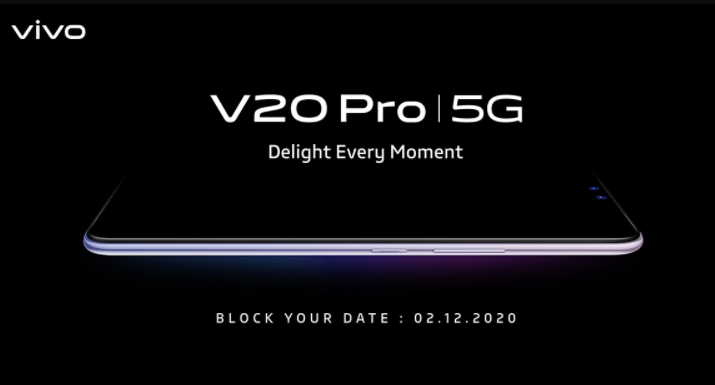 Why Vivo V20 Pro 5G delayed in India
The 5G smartphone makers avoid shipping their 5G handsets to India due to the unavailability of the 5G infrastructures. But the situation has changed India is about to experience 5G networks in some parts of the country very soon. Besides Vivo, in this country already 5G devices existed but none of them is in the budget segment except for the OnePlus Nord. Followed by the OnePlus Nord, Motorola Moto G 5G all set to launch on November 30. India could be the largest 5G market hence, smartphone makers making their presence before the 5G trials begin.
Price, storage variants and availability
Going by the storage options, the company likely to bring the handset in the country in two storage variants. It is like to be configured from 8GB+128GB and 8GB+256GB as the Vivo V20 series starts from the 8GB+128GB variant. Since it is the exact international model, the handset will offer three colour options. Options to choose from Sunset Melody Blue, Midnight Jazz Black and Moonlight Sonata White. As the phone already available at the Global market. Hence the company nothing left to unveil the phone extensively in India except for the price and availability. As far as the price is concerned the phone expected to price in between ₹27,990 – ₹29,999 for the base variant 8GB+128GB.
Amit Singh is the chief editor of Techminez and a tech geek. Amit loves to write about tech guides, reviews, troubleshooting, etc.